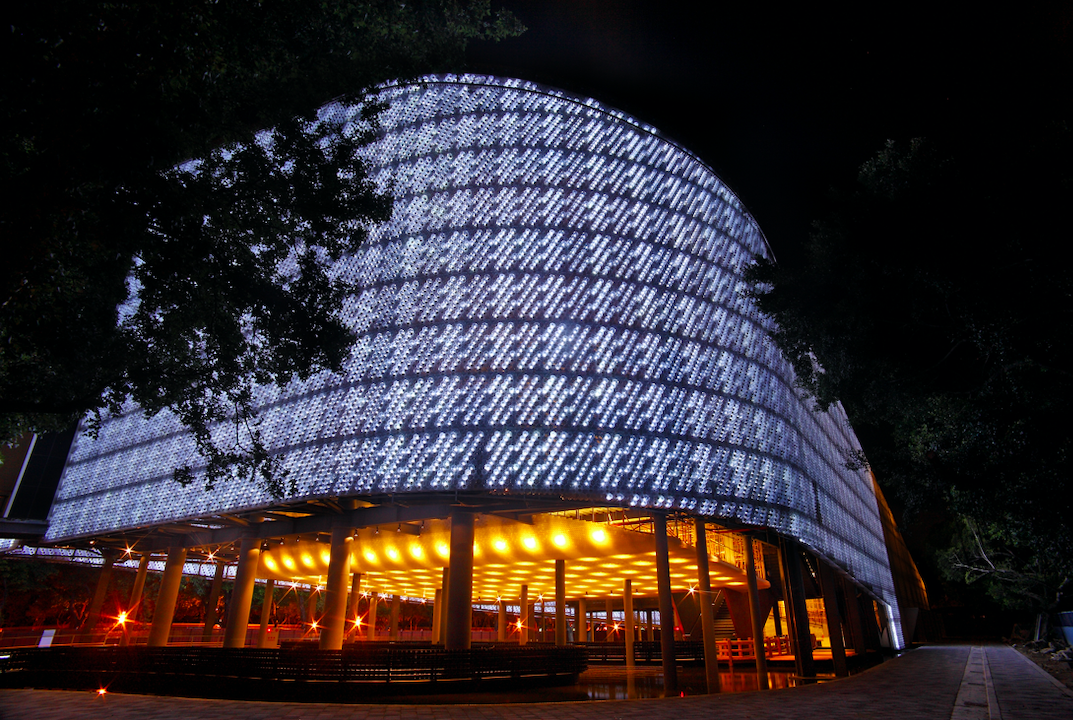 The EcoARK Pavilion locates in Taipei, Taiwan. It is the world's first nine-story building made from Polli-Brick™, a building material developed by MINIWIZ which is made out of 100% recycled PET bottles. It was the main exhibition area of the 2010 Taipei International Flora Exposition and is now a public museum. EcoARK hosted numerous fashion shows, music video filming and public events.
( English provided by company. )
Taiwan discarded more than 6 billion PET bottles every year, but only 4% of them are recycled, and the rest went to landfill or an incinerator. The main idea of EcoARK is to have a circular design mindset and turn pollution of today into solution for tomorrow.
Built with 1.5 million recycled plastic bottles collected from the public. The size is as big as the size of six basketball courts , and weight 50 percent less than a conventional building. Yet it is strong enough to withstand the forces of nature, including fire and earthquakes. The energy captured by the embedded solar panels in the day time is able to light up the EcoARK during the nights.
Polli-Brick™ is a revolutionary building material made from 100% recycled PET bottles. It is translucent, naturally insulated and durable. The modular 3D honeycomb self-interlocking structure makes it extremely strong without any chemical adhesives while weighting only one-fifth of traditional wall systems. The cross-industry R&D hybridization keeps the recycling process economically efficient. Since Polli-Brick™ can be assembled on site, it dramatically reduced the carbon footprint of transportation. The EcoARK pavilion is widely hailed as a benchmark for the future of green buildings and adheres to the mantra of "Reduce, Reuse and Recycle".
Benefits
Collected 1.5 million PET bottles from general public and turned them into 300 thousand Polli-Brick™.